What's happening out at the drive in?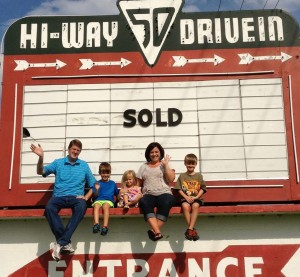 We are the Wakham family and we purchased this property after it was closed for the majority of the 2013 season where it remained closed for the remainder of the year for remodeling.
The building was gutted from wall to wall and repainted.
All of the existing wood was removed, old shelving, counters, sinks, etc.
The floor has been scraped and grinded clean and a commercial grade finish has been applied.
The sink room brought up to modern standards. The old leaky hotwater heater was replaced, the residential grade sinks were removed and replaced with all stainless steel, 3-compartment sinks with a sprayer and side boards.
All commercial grade equipment was purchased and brought in.
The bathrooms have been completely redone: The old paneling walls were harboring countless brow recluse spiders. All of which have been killed and removed.
The wall between the 2 bathrooms was stripped to the studs and rebuilt with new materials.
All walls and floor have been tiled and the old partitions have been removed and replaced with new ones.
The surface mount florescent lights have been replaced with commercial recessed lighting to cut down on lighting to the cars within sight of the bathroom doors.
The sinks have been replaced and moved out of the immediate toilet area.
An additional toilet in both the men and women's have been added to better facilitate the movie-goers.
Some of the wood trim has been replaced, more is on the list to be done.
The gutters have been replaced.
The bathroom doors have been replaced.
A large portion of the wiring has been replaced.
The sign has had upgrades and repairs.
The ticket booth has had repairs.
Additional steps have been taken to help with water that stands and collects around the property, more changes to come soon.
The old 35mm equipment has been removed, the room has been updated.
The exhaust fan was upgraded to a quieter model.
The FM transmitter has been upgraded.
The new projector is a very bright, all digital projector, it looks exactly like you were indoor with exact colors and brightness from corner to corner.
The audio processing board has been upgraded with the best in the industry. (We know this was a sore spot for many)
Screen repairs and repaint
WIFI internet access
Additional gravel
Additional functions such as mobile ordering and notifications so there's no long line to wait on.